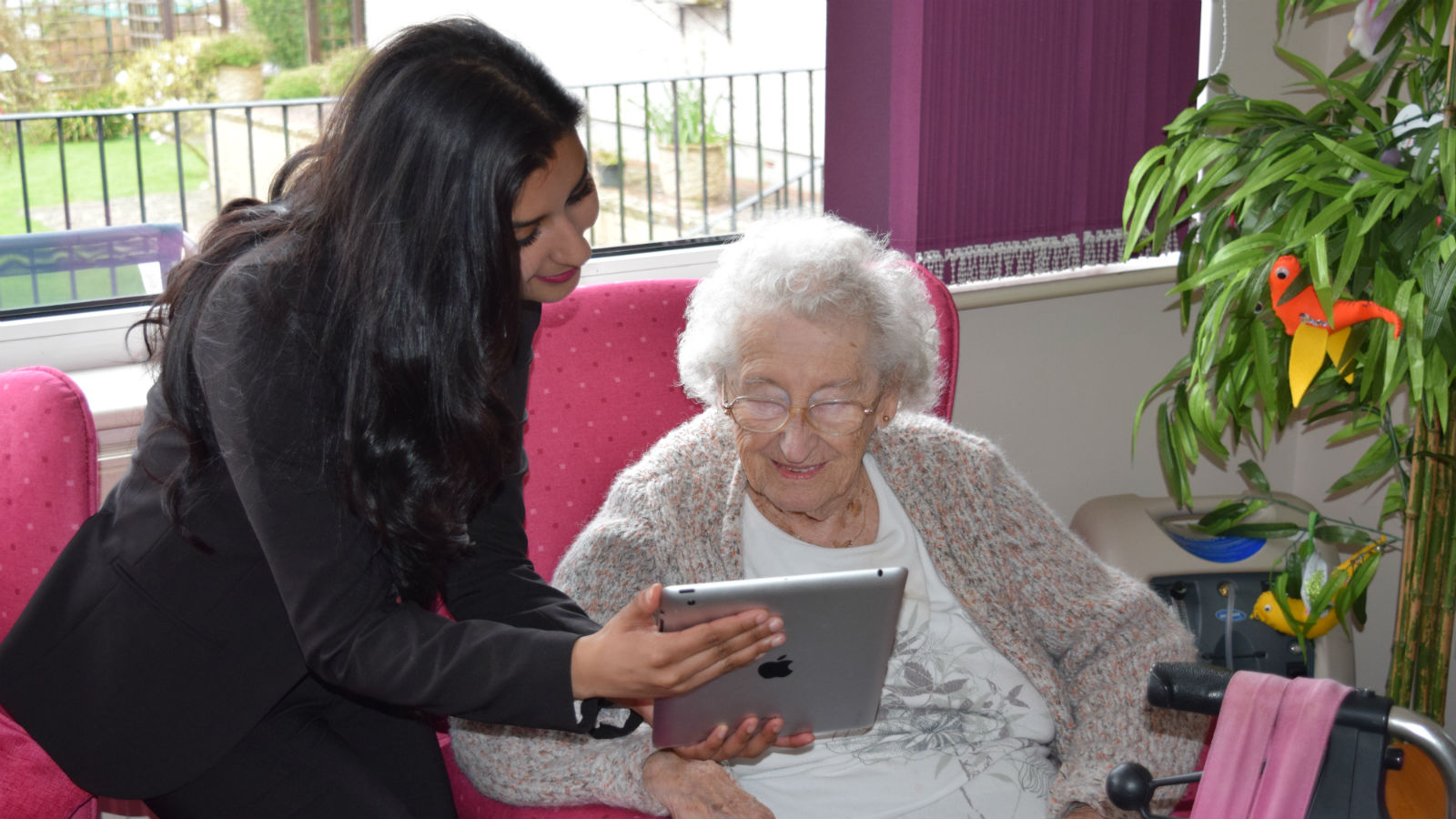 A family whose mother could not speak or hear has praised a project which helped them communicate with her in her final days. The project is led by PenCLAHRC PhD student Sonam Zamir, who is researching the effectiveness of video calls at reducing loneliness and isolation in care home settings.
Jerry Camp explained how his mother Cath Camp "got a real lift" from receiving video calls from family throughout the UK while living at Valley View Rest Home in Plymouth, the flagship home owned by Ark Care Homes Ltd, before her death in August following a short illness.
Delivered as part of the Plymouth University 'Skype project', Jerry, from near Guildford, Surrey, said the calls "really helped to bridge a gap in communication" – as Cath had no hearing or speech following a bout of childhood meningitis and was unable to communicate via phone.
You can watch a video of Jerry discussing how the project helped his family:
Jerry explained how, despite technology being more commonly used these days, video calls were still very new to many elderly people, and the project was pivotal for his family.
"Technology was hardly mum's thing as you can probably imagine. But she loved using the tablet for video calls – it was very intuitive.

The screen meant that my mother could lip-read, she could sign, and certainly the exchange of smiles onscreen helped lift her. Within moments the call brought a big, beaming smile to her face, and certainly speaking for myself and my family, the ability to talk to our mother knowing that she was in the last stages of her life enhanced life for us as well as enhancing life for our mother."
Sonam, who is trialling video calls in care homes throughout the South West, and measuring their effectiveness for users with and without cognitive decline, hopes the family's experience will encourage other care homes to utilise video calls to connect families, explaining that:
"Cath was one of the main users of the video calls and I was privileged to watch how it enhanced her communication. Her family would regularly 'Skype' her, and I'm pleased it had such an impact on all involved in the months before her passing.

Existing research shows us that loneliness and isolation among older adults can lead to other health problems, so anything we can do to improve people's connectivity can only be a good thing.

It would be great to help connect other families who can't always get to see their relatives in care homes, and – as little research has been available before now about the effectiveness of video calls in care home settings – I would love to find out if the project could help other people."
Sonam is looking to trial the video calls in care home settings throughout Plymouth and beyond. You can read more about her project on the PhD project page. Sonam's project also featured in a news story on this website in March 2017 – Skype on Wheels: Reducing loneliness in care homes.