In 2021 the National Institute for Health Research Applied Research Collaborations (NIHR ARCs) were awarded £13.125 million to develop key research programmes to address the most pressing issues facing health and social care today.
As part of this national programme, we are leading the Children's Health and Maternity programme in collaboration with the national ARC network. By building on our world-leading expertise and local and national networks we have been helping to find effective ways to implement evidence-based interventions to improve children's and maternity services across England.
In December 2022, two years into the programme, we hosted a national networking event in London, bringing together researchers on the programme's four implementation projects to share what they have learned so far.
We caught up with members of the team to hear their reflections on the last two years and on the networking day.
Dr Gretchen Bjornstad is the Programme Manager
"One of our chief aims has been to help more new mothers and children access evidence-based interventions and embed new practice in the services they use. To help us do this we identified four projects. This involved academics, clinicians, and people with lived experience from across the ARCs which we thought represented the most pressing areas to research.
The event was to bring together the people who'd contributed to this collaborative process, those with oversight of the programme and the people involved in the projects themselves, as well as anyone with an interest from the collaborating ARCs, other National Priority Programmes, NIHR, and NHS England.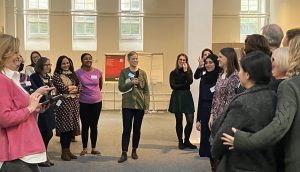 We wanted to provide an opportunity to hear from the four project teams who presented on what they've learned so far. Others shared solutions and strategies to address implementation challenges in child health and maternity services in their own areas.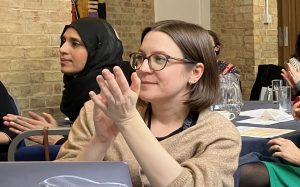 The room was buzzing with excitement throughout. There was brilliant engagement and discussion in each of the sessions, and a surprising amount of shared experience and interest across projects and people. It brought people together who are working across quite a wide range of research and expertise in a way that helped us to find common experiences and interests. I'm sure this will strengthen the programme's work and partnerships. It reminded us of the importance of this work to people's lives.
People were keen to continue the conversations they'd started, so we are helping to put people in touch and are planning to meet again in autumn 2023. The coming year looks to be a busy one as we begin to develop implementation toolkits and guidance, publish academic papers, and disseminate findings. We're looking forward to continuing our collaborative working and sharing these."
***
Naomi Morley is the Programme Patient and Public Involvement coordinator
"We're hoping to create meaningful change to communities and help reduce the equity gap by making services which are accessible. Bringing together people with their knowledge, skills and experience is part of creating that meaningful change in a sustainable way. Our networking event was an opportunity to foster this network and create deeper relationships.
I've been leading the Patient and Public Involvement (PPI) of the Programme, working with a number of public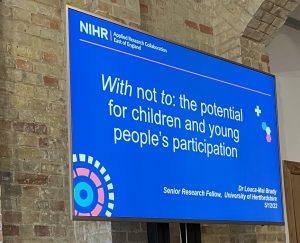 partners. We've formed a community of practice to create a space for the projects' academic PPI leads, public collaborators, and programme PPI staff to come together and learn from each other.
I think what has stood out is the openness and asserted effort and space to share, listen and learn from all knowledges. We have so much capacity in this network that goes beyond traditional academic research and truly makes what we are doing worthwhile.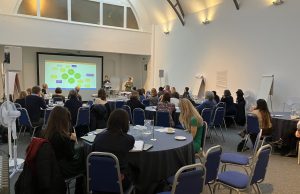 The atmosphere at our event was buzzing. December is a very busy month and despite train cancellations and delays and illness, many people made it to London and seemed excited to be in the room together (in person!) and open to learn.
Everyone was very interested and approached each other with generosity and the spirit of partnership. For me the greatest achievement was the cross-boundary learning and connections that were built and strengthened.
My biggest hope was to connect; to meet in person people I've worked, built relationships, shared moments with, on screen; and to deepen those connections, have a chat over a coffee. I'm not a hugger but to finally embrace those people was very special."
Contact the team to continue the conversation