We are leading the development of a research programme in Children's Health and Maternity in collaboration with the following ARCs: Yorkshire and Humber, North East and North Cumbria, North Thames, North West Coast, Northwest London, South London, West and West Midlands.
This collaboration builds on the ARC network's world-leading expertise in children's and maternal health, and existing local and national networks, to best understand how research can contribute to meaningful change.
This three-year programme of research seeks to find effective ways to implement evidence-based interventions to improve children's and maternity services widely across England by supporting 3-4 implementation projects.
Prioritisation process: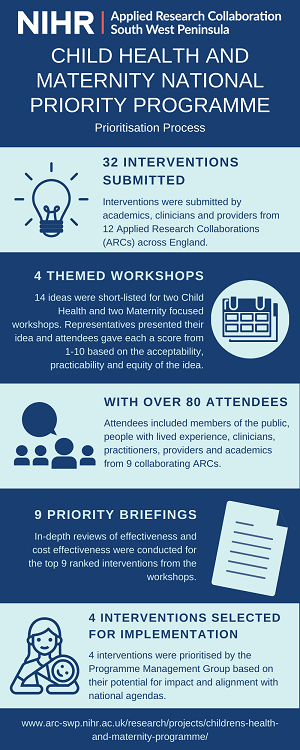 We have prioritised four projects and are currently working with project teams to agree study designs and an overarching programme of research to evaluate the implementation and impact of these projects.
 Maternal Mental Health Multidisciplinary Teams
Trauma-Focused Cognitive Behavioural Therapy for children in care
Independent Domestic Violence Advisors in maternity settings
Contact us:
If you have any questions please don't hesitate to contact us by email.