We are leading the development of a research programme in Children's Health and Maternity in collaboration with the following ARCs: Yorkshire and Humber, North East and North Cumbria, North Thames, North West Coast, Northwest London, South London, West and West Midlands.
This collaboration builds on the ARC network's world-leading expertise in children's and maternal health, and existing local and national networks, to best understand how research can contribute to meaningful change.
This three-year programme of research seeks to find effective ways to implement evidence-based interventions to improve children's and maternity services widely across England by supporting 3-4 implementation projects.
Prioritisation process: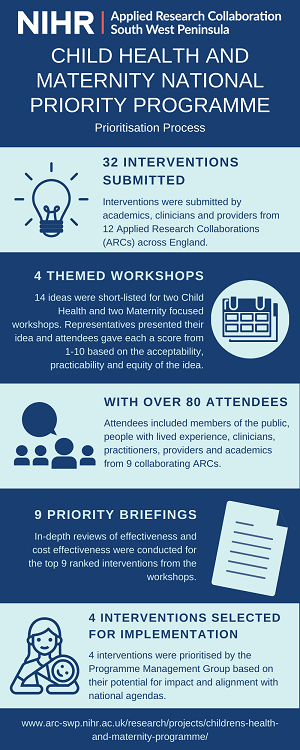 We have prioritised four projects and are currently working with project teams to agree study designs and an overarching programme of research to evaluate the implementation and impact of these projects.
Keep up-to-date with what is happening on this programme by reading our  Newsletter.
Contact us:
If you have any questions or would like to be added to our mailing list please contact us by email.
Related publications
ARC Bite
Prioritising child health and maternity evidence-based interventions or service models: a stakeholder-driven process
Download the Bite

Paper
"What works" registries of interventions to improve child and youth psychosocial outcomes: A critical appraisal
Download the Paper
Paper
Enablers and barriers English secondary schools face in promoting healthy diet and physical activity behaviours
Download the Paper