Covid-19 and the rapid reorganisation of general practice: Triage, shared decision-making, hubs and pathways to care in hospital and the community
Covid-19 and development of 'hot' Covid-19 hubs: discussion paper
General practice has been asked to reorganise care in to 'cold' and 'hot' sites to ensure we reduce the rate of spread, optimise use of critical care beds and ensure high quality care for those choosing not to be admitted. Over the last month researchers and NHS staff have identified key issues from the discussions and formal and informal networking amonst CCG managers, GPs and practice managers about how best to configure primary care. There is clear consensus emerging on a number of issues but also a range of strategic decisions to be made and practical problems to overcome.
This discussion paper (which can be downloaded as a PDF) summarises our learning and has been updated as a third version. The figure (below) captures key features and issues discussed.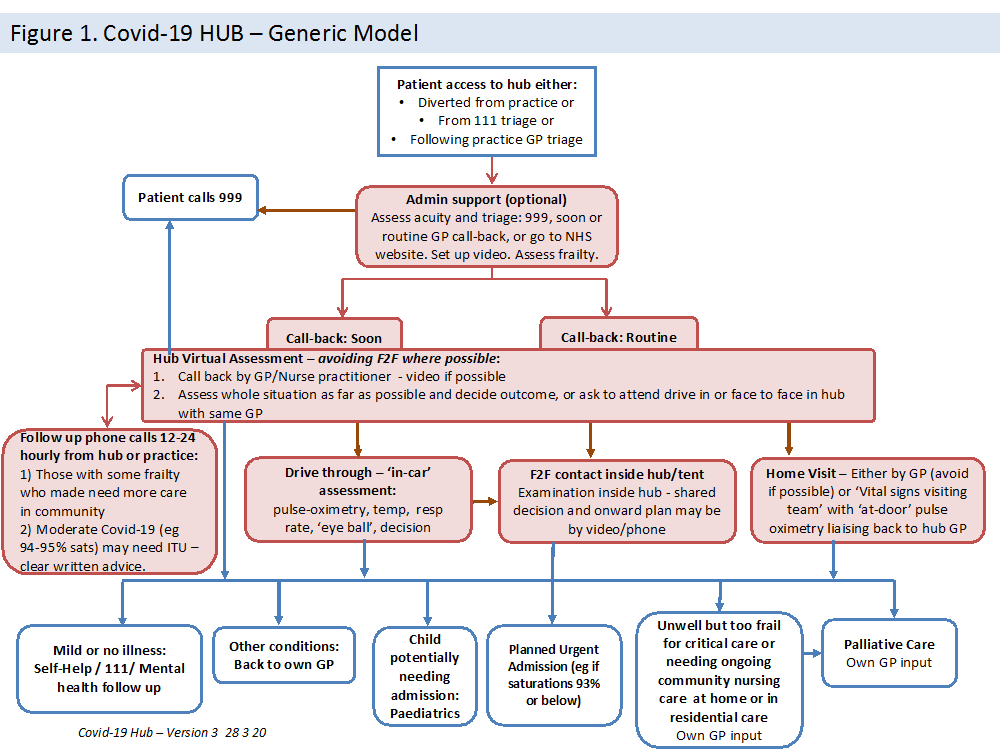 The Plymouth hub
Practices from across the Western Locality of Devon CCG and beyond, supported by Sentinel CIC and CCG developed the model collaborating with LMC and PenARC researchers. This is now a working version of the model of Figure 1 (above) and run by Sentinel in conjunction with practices. Innnovative features include tent-based assessments, an admin team ensuring video-enabled consultations, a volunteer-led vital sign visiting team and combined use of System 1 and EMIS clinical systems. The standard operating procedures can be download via this link.
Uncertainties and questions around primary care pathways for Covid-19
Through the ARC we have carried out a very rapid question generation and priorisation exercise about primary care pathways to care for suspected Covid-19, and in particular, about how triage is managed, and what considerations there are likely to be for groups such as those who are frail. Key questions and a description of the process were published on 01 May 2020 as a Centre for Evidence-Based Medicine blog.
Useful links and resources
Oxygen Saturation Monitoring: Doorstep Assessment Service – Merton Health Limited
Royal College of General Practitioners: COVID-19 Resource Hub
Royal College of General Practitioners: Latest COVID-19 guidance in your area
Oxford Centre for Evidence Based Medicine COVID-19 Evidence Service