We know that evidence-driven research can translate to real impact for people and the services they rely on. Finding, and applying evidence to research is an essential part of our approach and we help others to do the same through our Making Sense of Evidence Programme.
Making effective, caring decisions with patients relies on an understanding of how and when to use research evidence. Our MSE programme helps participants to develop this understanding and to learn which research questions will be most applicable, to patients and health professionals. It facilitates a positive exchange in which practitioners can apply research to their practice and researchers can learn from practitioners.
'We know that evidence-driven research can translate to real impact for people and the services they rely on.'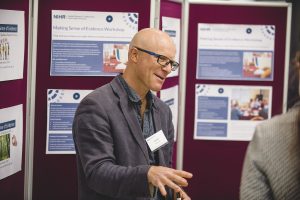 In our Making Sense of Evidence (MSE) workshops participants learn how to formulate a focused question, track down and organise the best evidence, critically appraise and understand the application of evidence in practice and evaluate the educational process.
The workshops, which can be tailored to suit individual need, are designed to be suitable for a wide range of people, from students, patients and members of the public to doctors, allied health professionals, nurses and therapists. In addition, each year we hold a Making Sense of Evidence Conference, a free day of interactive workshops and presentations with expert tutors.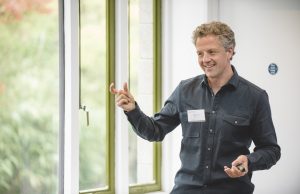 This year's conference at Buckfast Conference Centre in Devon took place over two days in September. Keynote Speaker Professor Amanda Burls, Professor of Public Health, City, University of London, gave an inspirational introduction to 'making sense of evidence'. Attendees had the chance to attend a range of workshops, from how to formulate a focused question to critical appraisal of randomised controlled trials and critical appraisal of a systematic review.
Feedback was overwhelmingly positive, with delegates expressing new confidence in accessing research to help support their clinical decision making.
MSE tutor Dr Edmund Jack said:
"It was a great opportunity to have people back together in a face-to-face setting and to work with people from diverse backgrounds. It really enabled an interactive learning experience and helped participants to think about how and when to apply evidence in their practice. We hope that ultimately this will help them feel more empowered in their decision making."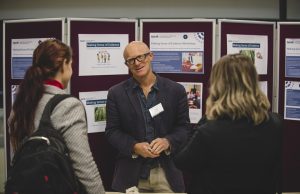 To find out how our Making Sense of Evidence programme can assist you in your work please visit our MSE page for more information.
If you would like to be added to our mailing list to receive detail of all workshops on the Making Sense of Evidence programme or have any questions please do not hesitate to get in touch with the team at penarc-events-training@exeter.ac.uk