What's the background?
More than a quarter of a million (291,000) people aged 65 and over were living in care homes in England and Wales in 2011, and over 59% of this population were aged 85 and older. Moving from independent living to residential/nursing care is a key transition in an older person's life and can significantly affect an individual's quality of life.
The therapeutic value of animals or pets
A homelike environment is important to residents and the presence of animals or pets may contribute to a feeling of less institutionalised living. There are care homes that allow residents to bring their pets with them (Cinnamon Trust), and there are also examples of pet visitation programmes to nursing/residential homes often provided by organisations such as Pets as Therapy and the Elisabeth Svendsen Trust.
Animals are also believed to be therapeutic and pet therapy or animal assisted therapy is one of the treatments recommended by the National Institute for Health and Care Excellence (NICE) and Social Care Institute for Excellence (SCIE) guidance for people with all types and severities of dementia experiencing agitation.
Are care homes 'pet friendly?'
Although care homes may claim to be 'pet friendly', it is unclear what this means in practice and how actively care homes promote interaction with animals to enhance the health and wellbeing of their residents. Furthermore, there may also be unintended harms or challenges of bringing animals into the care home setting which need to be understood.
What did we research?
Whilst there have been a number of reviews addressing the impact of animals and pet therapy on the health and wellbeing of older people, these have not focused specifically on older residents living in residential/nursing care. Our review synthesised the available evidence on the impact of animals on those living in residential care and on care home life.
We conducted a systematic review of quantitative and qualitative evidence to address the following research questions:
What are the impacts (short-term and long-term) of animals on the physical and mental health, social wellbeing, medication use, and quality of life of older people living in residential/nursing care?
What are older residents' (including those with dementia) experiences of interacting with animals?
What are the views of residential care staff on the impact of animals on residents and on care home life in general?
What are the challenges for residents, families/carers and care home staff of involving animals in care homes?
Are there different approaches or interventions (i.e. resident pets, pet visitation programmes, group or individual format, spontaneous or guided interactions, short- or long-term, pet versus robopet) that are particularly appropriate for different groups of residents (i.e. those who are cognitively intact and cognitively impaired, and those who are different stages of the dementia journey – early/mild, moderate or severe dementia)?
What is known about the effects of human-animal interaction on the therapy/participating animal in care homes?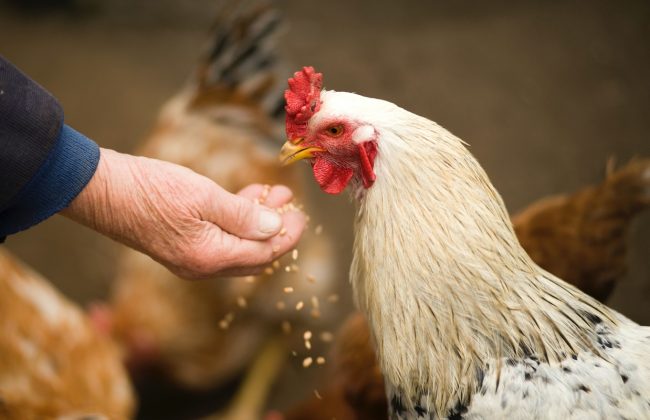 "Before the hens arrived the garden was just a big empty
space. Now the doors are always open and residents enjoy
being in the garden. When families visit they bring their
relative to the garden and they have fun times together"
Cooke et al, 2013
What did we learn?
We found that the presence of animals in care homes can significantly impact the health and wellbeing of some care home residents. Our research found evidence that interacting with animals were positive for many residents and offered them a way to maintain a sense of self in the care home. Residents had meaningful relationships with animals and derived pleasure, comfort and companionship from them. Animals also brought an interesting dimension to the daily life and routines of the care homes and looking forward to visits brought pleasure to residents. A resident in one study said "I love it. I look forward to it" (Wong, 2015).
"I love it. I look forward to it"

(Wong, 2015).
Our systematic review, published in BMC Geriatrics, brought together evidence from 34 studies, and it is the first to synthesise both qualitative and quantitative evidence on human-animal interactions in the residential care setting. The studies reported on a wide range of human-animal interactions – resident home pets and animals kept on site such as chickens, personal pets of residents, and animal-assisted interventions such as dog therapy or small animal visits (e.g. kittens, rabbits). Some of the studies were about residents' experiences of interacting with the animals, while other studies measured the effects of animals on loneliness, depression and anxiety, for example.
The quantitative evidence was based on 18 randomised controlled trials which measured the effects of animals on a range of outcomes including loneliness, depression, anxiety, agitation and quality of life. There was some evidence that animals can help reduce anxiety, depression and loneliness but overall, there was limited evidence of measured improvements in wellbeing.
Where next for related research?
There is widespread societal acceptance of the benefits of animals for residents in residential and nursing care which may exert a subtle pressure on researchers to report positive findings. There was little in the review studies on the potential for animals to elicit negative responses from residents so future research should address some of the resident-specific challenges of introducing animals into residential care settings. The review encompassed a wide range of human-animal interactions and future research should focus on understanding the strengths and limitations of the different types of human-animal interactions themselves.
What did we produce?
We have produced a variety of resources:
Related publications

Paper
What are the effects of animals on the health and wellbeing of residents in care homes? A systematic review of the qualitative and quantitative evidence
Download the Paper