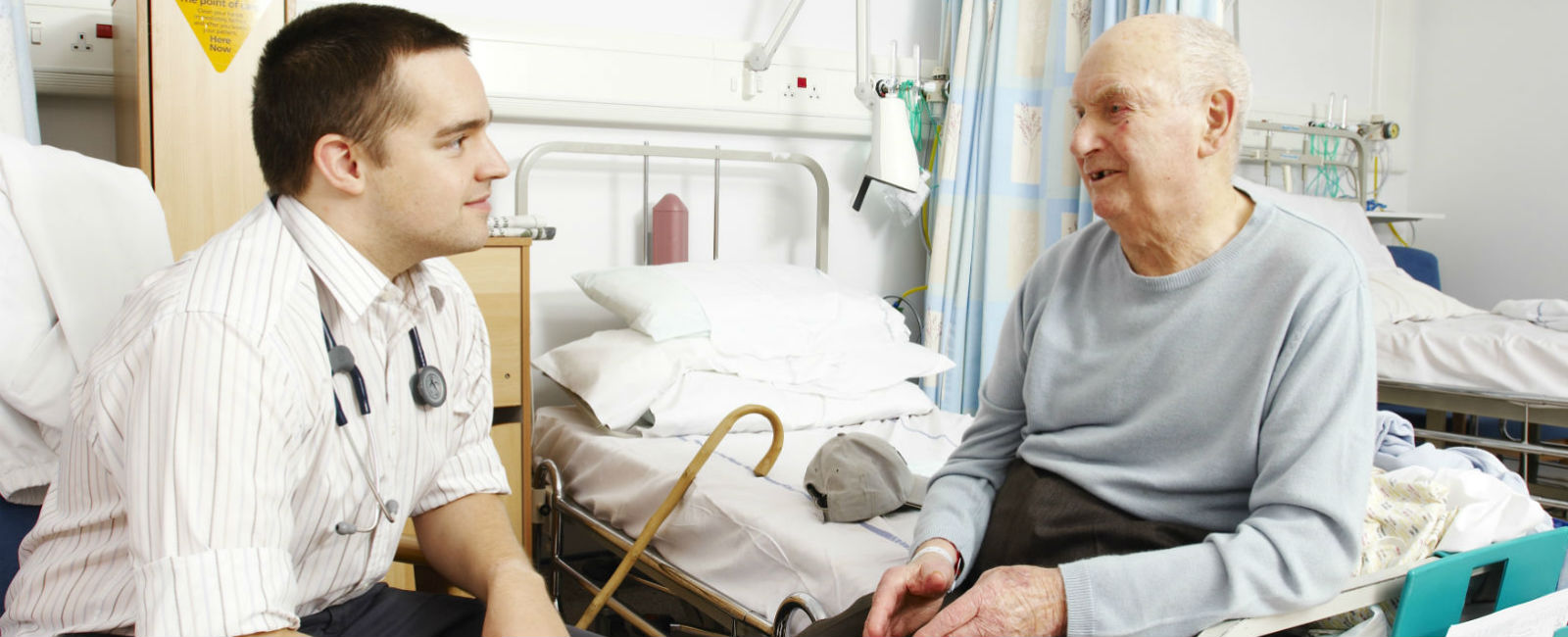 Read the Plain Language Protocol Summary (PLPS) here.
Background
Hospital services are inherently geared towards fast and effective responses: assessment, diagnosis, intervention and discharge. Services run on the assumption that patients will be able to express their wishes, acknowledge the needs of other patients, and move through the system as required.
However, for people with dementia, particularly when they are ill or have had an accident, hospital settings can be confusing, challenging and overwhelming. This can further impact their well-being and the ability to optimise their care. Furthermore, what happens in hospitals can have a profound and permanent effect on individuals and their families – not only in terms of their inpatient experience – but also their ongoing health, and the decisions that are made about their future.
Aims
The aim of this research project was to support improvements in the experiences of care for people living with dementia in hospital, their families and the hospital staff providing care, through the use of evidence synthesis.
The project consisted of three systematic reviews which explored:
The experience of care in hospital
The experience of interventions to improve care in hospital and
The effectiveness and cost-effectiveness of interventions to improve the experience of care in hospital for people living with dementia, their carers and staff.
Review methods
We conducted two systematic reviews of qualitative research evidence about the experiences of people living with dementia, their carers and the staff that provide care in hospital- the first focussed on the experiences of care in hospital and the second on the experiences of interventions aiming to improve the experience of care. We also conducted a systematic review of the effectiveness and cost-effectiveness of relevant interventions. We then brought together the findings from the three reviews in an overarching synthesis.
We wanted to ensure that our findings make sense to those who could use them to bring about change for people living with dementia. We, therefore, discussed the findings with prior and current carers, health care practitioners, commissioners and researchers via a mixture of face to face discussions with individuals and groups to achieve a widespread distribution of different views and experiences. Together we developed 12 DEMENTIA CARE pointers for service change: key institutional and environmental practices and processes that could help improve experience of care for people living with dementia in hospital.
Dissemination
It is important that the findings are readily available to the people for whom they are relevant. This includes: people living with dementia, their family and carers, hospital staff, health and social care commissioners and the third sector. We are using different methods of dissemination to target different audiences.
We have worked with an artist to create a visual representation of the 12 DEMENTIA CARE Pointers for Service Change. You can find the A5 Booklet here.
We will also be presenting the Pointers for Service Change at the Alzheimer's Association International Conference, the Society for Social Medicine and Population Health Annual Scientific Meeting and the British Geriatric Society Autumn meeting.
The main report is available in the NIHR Journals Library.  We have also produced a short Briefing Paper that summarises the main findings.
We have also published two papers in peer reviewed journals which are available below.
Conference Presentations
The following poster was presented at the British Geriatric Spring Meeting in April 2019:
Improving the Experience of Care for People with Dementia in Hospital: Synthesis of Qualitative & Quantitative Evidence
The following abstract was presented at the Alzheimer's Society Conference in May 2019:
Improving the experience of care for people with dementia in hospital: Synthesis of qualitative and quantitative evidence, development of a logic model and co-production of plans for practice change
The following poster was presented at the Alzheimer's Association International Conference in July 2019
Improving the Experience of Care for People Living with Dementia in Hospital: Synthesis of Qualitative & Quantitative Evidence
The following poster was presented at the Health Services Research UK Conferences in July 2019
Improving the experience of care for people with dementia in hospital: Synthesis of qualitative and quantitative evidence, development of a concept model and co-production of plans for practice change
Blogs
We have written the following blogs about the project:
Our reflections on the British Geriatric Society Spring Meeting 2019 where we presented early findings from the project – Tri yn mynd ar antur yn y gwanwyn
Our reflections on the Alzheimer's Society Meeting where we presented early findings from the project in May 2019 – Cricket bats and conversations
Sharing thoughts on our early findings and asking for feedback – What matters to you matters to us
Publications
The protocol for the reviews is registered on the PROSPERO database [PROSPERO 2018 CRD42018086013]
Gwernan-Jones R, Abbott R, Lourida I, et al. The experiences of hospital staff who provide care for people living with dementia: A systematic review and synthesis of qualitative studies [published online ahead of print, 2020 May 15]. Int J Older People Nurs. 2020;e12325. doi:10.1111/opn.12325
Lourida I, Gwernan-Jones R, Abbott R, et al. Activity interventions to improve the experience of care in hospital for people living with dementia: a systematic review. BMC Geriatr. 2020;20(1):131. Published 2020 Apr 10. doi:10.1186/s12877-020-01534-7
Gwernan-Jones R, Lourida I, Abbott R A, et al Understanding and improving experiences of care in hospital for people living with dementia, their carers and staff: three systematic reviews https://doi.org/10.3310/hsdr08430
Rebecca A Abbott, Debbie Cheeseman, Anthony Hemsley, Jo Thompson Coon, Can person-centred care for people living with dementia be delivered in the acute care setting?, Age and Ageing, 2021;, afab065, https://doi.org/10.1093/ageing/afab065