Background
Whilst the majority of urgent care is delivered in primary care, the demographic shift in the numbers of older people has resulted in an increase in the number of older patients accessing urgent health and social care services. Between 2014 and 2015 a fifth of people admitted to hospital were aged 75 or over and accounted for approximately 40% of total stays in hospital. This shift toward a more elderly population is set to continue, with the number of people aged 85 and over forecast to increase by two-thirds over the next 20 years.
Diagnostic work undertaken in Cornwall and Isles of Scilly (CIoS) as part of the Embrace Care programme (involving outcome assessments for 265 patients) identified that those presenting with frailty were more likely to be admitted via an Emergency Department (ED).
Community Assessment Treatment Units or 'CATUs' were set up to form an essential part of the urgent care in the community response going forward. They aimed to provide safe alternative care for older people, closer to home by ensuring healthcare professionals have an alternative referral route and the community has all it needs to support people in place; offering a rapid diagnosis and assessment process and bedded care where needed to reduce cumulative length of stay and onward debility.
Aims
Learn about how CATUs can best support frail patients with urgent needs within the community and understand the impact that the CATUs were having on ED referrals to support further development of the model.
Consider the effect of these being placed in rural and coastal areas and how this could be more accessible for local people as well as meaning they can avoid hospital in a time where this could cause potential additional stress or concern.
Understand critical success factors for the spread of the CATU model.
Activities
CATUs were set up at the start of the pandemic to protect patients with frailty from COVID-19 and other nosocomial harms, including deconditioning and hospital delirium. The pandemic public health messaging created a situation where older patients with frailty were isolated and confined to their homes for long periods of time.
Patients can be referred into a CATU via numerous routes (including through an ambulance trust, an acute GP and A&E). Patients are triaged, medications are reviewed, and a discharge plan is created on admission, with an aim to turn around patients within 72 hours. There is also an intention that therapies should engage with patients within 24 hours of arrival.
Once assessed, the patient is admitted and given the treatment they need. The majority of CATU care is delivered within the CATU, although patients must also be transported around the county for some tests. The CATUs offer various activities to support recovery to a point where the patient is medically fit for discharge and to prevent deconditioning. Once patients are medically fit, they are readied for discharge.
The evaluation has a mixed-methods, developmental design and incorporates findings from:
interviews with staff and stakeholders across the health and care system
system and locally collected referral and admissions data
bed availability
place of referral data audits
patient engagement and patient experience case studies
informal qualitative feedback through community of practice sessions and stakeholder workshops
staff surveys
workforce data
Outputs
CATUs offer an alternative referral route for frail patients with urgent needs enabling patients to avoid acute admissions and often avoiding the hospital altogether, with South Western Ambulance Service NHS Foundation Trust (SWASFT) taking referrals directly to the CATU and avoiding A&E.
Length of stay within a CATU is largely dependent on referrals being appropriate and care being available in the community, making the 72-hour turnaround target difficult for the CATUs to meet.
Resources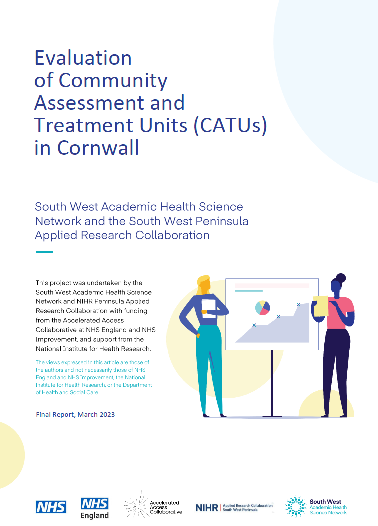 View and download our Full Report: Evaluation of Community Assessment and Treatment Units (CATUs) in Cornwall (PDF, 19MB)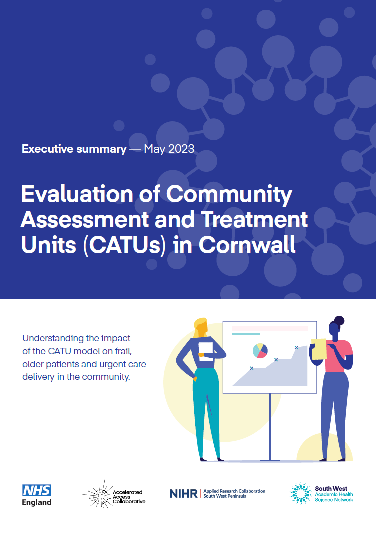 View and download our Executive Summary (May 2023): Evaluation of Community Assessment and Treatment Units (CATUs) in Cornwall (PDF, 386KB)
Collaborators and funding
Louise Hall, South West Academic Health Science Network
Cathy McCabe, South West Academic Health Science Network
Anna Powell, South West Academic Health Science Network
This project is funded by the Accelerated Access Collaborative at NHS England and NHS Improvement.