The use of social prescribing and community-based wellbeing activities as a potential prevention and early intervention pathway to improve adolescent emotional and social development: CHOICES: CHildren and young people's Options In the Community for Enhancing wellbeing through Social prescribing. 

This project will extend the growing evidence base around social prescribing in the primary care and public health arenas by focussing on its use for children and young people (CYP), and in particular prevention and early intervention in mental health conditions, which are a key growing concern for primary care, public health and education services.
Background
There has been a rise in young people's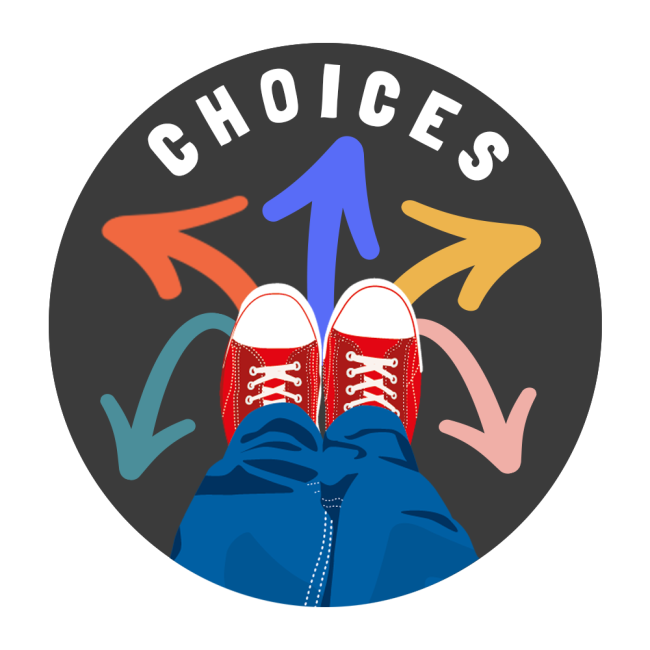 mental health conditions in both primary and secondary care, with specialist services struggling to meet demand. While social prescribing initiatives aiming to connect individuals to community-based assets have received increased research and policy attention, schemes have mostly centred on adults. Very little social prescribing evidence, policy or provision has been applied to children and young people (CYP).
The project will involve two work packages and aims to address a number of research questions:
Work Package 1
1) Which individuals and services are CYP first presenting at, for mental health
difficulties?
● Are there differences based on demographic and clinical characteristics?
● How, if at all, has this changed as a result of the global pandemic?
2) How do young people with mental health difficulties travel through the care pathway to access support?
● What do young people and families class as a successful referral source
(i.e. the contact that resulted in an individual obtaining the service they felt
they needed)?
● What is the average number of contacts a young person has before
accessing a successful referral source?
● What individuals and services do young people and families draw on
between first presentation and successful referral source?
● How do services and pathways interact?
● How, if at all, has this changed as a result of the global pandemic?
Work Package 2
Research Questions:

1. How do young people conceive of their 'community' or 'communities', and how do these concepts of 'community' map onto the geographic, service commissioning, or organisational boundaries used to inform social prescribing pathways in sites?
2. What do young people want from their communities, to enable their perception of connectedness and participation?
3. What is the role of locally trusted organisations (LTOs) in supporting young
people's participation and social connection?
4. What is the evidence for how community support (organisations) can promote or support young people's mental health.
Aims and objectives
Our proposed project will examine the use of community-based wellbeing activities for CYP as a potential prevention and early intervention pathway by:
● Exploring how social prescribing schemes/pathways operate as a vehicle for
assisting CYP to access, connect with and participate in community activities; and
● Understanding how diverse types of community-based support can create the conditions to promote adolescents' healthy social and emotional development.
Activity
There will be two work packages, working with 5-6 existing social prescribing
sites/approaches for young people aged 10-24.
Work Package 1 includes:
● a mapping review of evidence on pathways for CYP accessing community
activities;
● 8-10 interviews with young people and those identified as practitioners in each site to understand how referrals are made and who makes them (e.g. link workers in PCNs, GPs, schools, etc); and
● an exploration of the use of routine administrative data and social network analysis to map how young people are usually seeking help, and which agencies are involved.
Work Package 2 includes:
● a participatory community workshop in each site to explore young people's
understandings of 'community' (both offline and online, and the interactions
between them), and
● in-depth interviews with 8-10 young people in each site to map networks of 'trusted community organisations' and uncover their role in supporting their mental health;
● a rapid review of qualitative research on community support for youth mental health.
Anticipated Outputs
Outputs from Work Package 1 include a mapping review of how CYP travel through pathways; social network maps; evidence and data relating to the use of pathways on outcomes. Work Package 2 outputs include a conceptual map of 'community' according to young people and a rapid qualitative review of the evidence on community support for young people's mental health.
Knowledge mobilisation and transfer: With our Young Poeple groups, we will co-produce summaries of findings in a variety of formats (blogs, podcasts, evidence summaries) for a variety of stakeholders, including families/communities, providers, policy makers, commissioners. We will hold dissemination events in all case study sites to transfer learning.
Poster from 4th International Social Prescribing Conference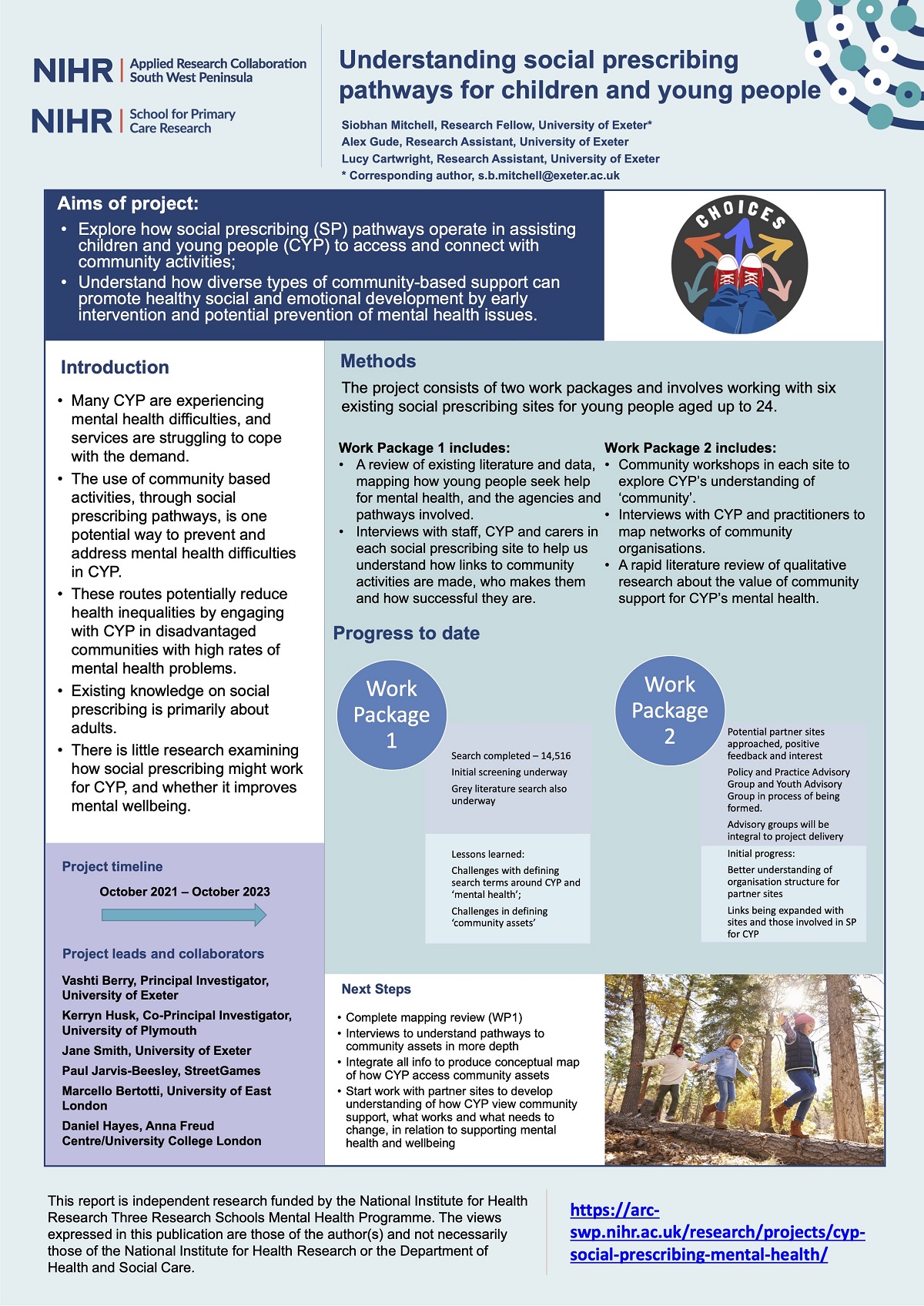 Next Steps
The findings will support the development of a large follow-on proposal to the NIHR for a hybrid implementation-effectiveness evaluation of social prescribing schemes for CYP in England to prevent and reduce mental health difficulties. The findings will also feed into national collaborative work being led by the National Academy for Social Prescribing, and NHS England and Department for Health and Social Care.
Collaborators
Richard Blackwell, South West Academic Health Science Network
Dr Jane Smith, Dr Siobhan Mitchell, Ms Alex Gude, Ms Lucy Cartwright, University of Exeter
Dr Marcello Bertotti, University of East London
Dr Daniel Hayes, Anna Freud Centre, University College London
Mr Paul Jarvis-Beesley, Head of Health, StreetGames and National Social Prescribing Youth Network (SPYN).