In August 2022 research aimed at addressing the challenges facing people with dementia living in the South West was given a boost with the announcement of funding to support the next generation of dementia researchers in the region.
The funding from the National Institute for Health and Care Research, working in collaboration with Alzheimer's Society, is helping to strengthen capacity and capability in dementia health and care research in the South West.
All fifteen NIHR Applied Research Collaborations (ARCs) in the national network received a share of the £7.5m funding to support a cohort of post-doctoral health and care researchers toward independence, developing skills to establish research projects, programmes and collaborative groups.
Dementia fellowships for early-career researchers
We have awarded fellowships to 4 early-career researchers, giving them the experience and training to help them to develop into future leaders in dementia research. Our Dementia Capacity Research Fellows are Dr Catherine Alexander, Dr Tomasina Oh, Dr Iliana Lourida and Dr Hannah Wheat. We caught up with them to find out about their path into dementia research and their hopes and aims for their fellowship work.
Cathy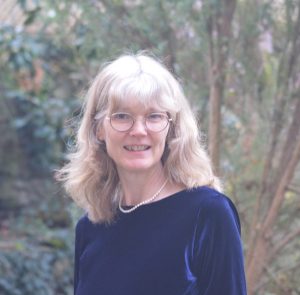 Cathy Alexander was a GP in London and then Bristol before completing a PhD in medical studies, sponsored by Alzheimer's Society and moving into research. Her PhD examined awareness in people living with mild-to-moderate dementia.
PenARC: Can you tell us what you hope to be working on during your fellowship?
Cathy: I'll be working with the IDEAL project team, with ongoing research on awareness of condition, and helping develop tools for use by people with dementia to enhance person-centred care. My PhD work developed a clinical tool for assessing awareness and I hope to continue this work with a view to planning a validation study for the tool.
PenARC: What will the fellowship mean to your research?
Cathy: The fellowship provides a place to build research skills surrounded by a great team of experienced researchers and excellent resources in PenARC and the wider NIHR network. The training opportunities available will help me prepare future funding applications and move forward in my research to explore the benefits of assessing awareness in clinical settings, and how best to support people with dementia to live as well as they can.
PenARC: Why do you think dementia is an important area of research?
Cathy: It's an increasingly important area as it serves a large and expanding population for whom care provision is already limited, leaving much need unmet. I'm pleased to have been awarded the fellowship because it'll enable me to continue learning and contributing to research in such an important area.
Tomasina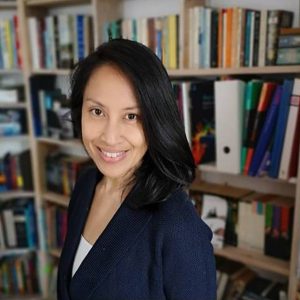 Tomasina Oh was born in Malaysia and came to England as a post-graduate student. She obtained an M.Phil (Linguistics) and PhD (Experimental Psychology) from Cambridge and says that in this time she "formed friendships that have endured time and distance, as well as discovering a weakness for sticky buns."  Following on from her PhD she worked in Malaysia and Singapore, becoming a mother to two boys before returning to England. She joined the University of Plymouth in late 2019, and became part of the Community and Primary Care Research Group where she manages the Dementia PersonAlised Care Team (D-PACT) programme of research, examining the potential value and impact of a dementia support worker based in primary care.
PenARC: Can you tell us what you hope to be working on during your fellowship?
Tomasina: As someone who is transitioning into dementia research, I plan to use part of my fellowship time to learn as much as I can to fill the gaps in my knowledge and skills set.  I would like to build on the work we have begun in D-PACT, focusing on our South West region, but also beyond.  Before being awarded the fellowship I'd begun working on a global health bid that aims to combine our D-PACT learning with that of our collaborators in Malaysia to address some of the challenges facing dementia care there.  I'll also be working with colleagues on the ComPHAD project, which aims to determine the prevalence of dementia in underserved populations (e.g. coastal). I'd also like to develop my interest in challenges around advance care planning and end-of-life among people with dementia and their families.
PenARC: Why do you think dementia is an important area of research?
Tomasina: Dementia is one of the biggest challenges facing us today. Ensuring that those living with it have the proper care and support during their journey from beginning to end is important to me personally and as a researcher. I find it a privilege to hear some of our participants' stories.
PenARC: What does it mean to you to have been awarded the fellowship?
Tomasina: As someone who has been an academic for a while, opportunities that support a transition into a new field are few. I am incredibly grateful to be surrounded by the wealth of expertise at PenARC and for this opportunity to "learn and do" in order to make a meaningful contribution to dementia care.
Hannah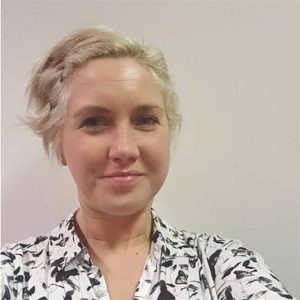 Hannah Wheat is a qualitative researcher, with a background in applied health care research. Her PhD examined how GPs and patients discussed mental health issues using conversation analysis (CA). She is currently leading the realist case study evaluation for the Dementia PersonAlised Care Team (D-PACT) project and contributing to the qualitative work of the ENLIVEN project.
PenARC: What will the fellowship mean to your research?
Hannah: It'll provide an immediate opportunity to continue to contribute to dementia research (rather than look for the next fixed contract opportunity, which may or may not fall within the field of dementia), while developing the type of skills, network and knowledge that can help secure funding for my own independent dementia research. I'm enjoying the opportunity of working with other researchers within the field and will value the time to build my ideas for future grants, through engagement with others, over the course of the fellowship.
PenARC: And what do you hope to be working on?
Hannah:One topic I'm keen to explore is how various workforce models within Primary Care Networks can influence what care is provided for people with dementia and how it's delivered. I'm also interested in the type of support practitioners providing dementia care, within these models, need and receive, and what factors influence the effectiveness of that support. I'm also keen to use evidence-based learning to adapt the D-PACT model, so it can be used to enhance the care and support for people with dementia and carers from underserved communities.
PenARC: Why do you think dementia is an important area of research?
Hannah: Dementia has such a substantial impact on those who have it, but also on those who are close to that person. While support can be provided at the point of diagnosis, it's often unsustained, leaving people with unanswered questions, uncertainty about where to find support, and with nobody to talk to about changes in their relationships and fears about the future. It's important that we find effective ways to ensure that people are supported through their dementia journey, so that they can, as much as possible, enjoy life as they want to, for as long as possible.
***
Read more about our current portfolio of Dementia research here