Introduction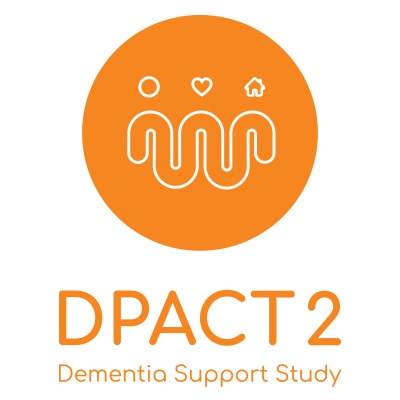 The Dementia PersonAlised Care Team (D-PACT) programme is a five-year project, funded by a National Institute for Health Research (NIHR) Programme Grant for Applied Research (PGfAR). Our project aims to develop and evaluate a system for dementia support based in general practice for people living with dementia and their carers. The project is a collaboration between the Universities of Plymouth and Manchester.
Currently, a range of dementia support services and roles exist to address the challenges faced by people with dementia and their carers. These services are often valued, but there are still questions in relation to the most effective type of support and where it is best delivered. Commissioners and providers can be reluctant to invest in services when there is limited evidence to support their effectiveness.
They've got somebody to go to if they've got a support worker. I think it will be handy, they've got a named person that they can go to if they're looking for anything, really. I didn't know who to go to for anything, I had to find it all out myself… it was draining because you don't know anything, you don't know… you've got to find it all out yourself.
– from an interview with a person living with dementia
Aims
The D-PACT programme will address this lack of evidence by developing and evaluating a system for dementia support based within general practice that will provide post-diagnosis care for people with dementia and their carers.
… so the support worker's listening and thinking, okay, what does this individual carer need? What do they need? Not 'what does every carer need?' What does THIS person need? Where is the best point that I can direct them to?"
– from an interview with a carer
Activity
D-PACT Phase 1: feasibility
The feasibility phase is now nearing completion. During this feasibility stage (which was extended due to COVID-19) we have focused on developing a Dementia Support Worker intervention that provides ongoing support to meet the following needs of people with dementia and their carers:
Mental health and wellbeing
Physical health and wellbeing
Support to achieve social goals
Improved quality of life.
We have also developed a theory of how the intervention will work by reviewing the literature and talking to experts including, importantly, people with dementia and their carers.
D-PACT Phase 2 : Realist Informed Evaluation
In years four and five, we will carry out a Realist informed multi-level mixed methods longitudinal evaluation with around 18 practices in two to three UK settings. We want to investigate the use of this intervention within real life settings and in various populations. Particularly, sites will represent under-served communities including rural communities, coastal/poor communities and urban/ethnic minorities.
The three aims of phase 2 include:
to understand how the D-PACT intervention is – and should be – delivered in varied settings (including to different communities) and further refine the programme theory
to explore the potential value and impact of the D-PACT intervention
to contribute to methodological development of community-based dementia studies, building on our work on face-to-face and remote recruitment and measuring outcomes for a group with variable capacity.
Throughout the programme, we will study how to ensure such an intervention can be put into practice in the challenging health and social care context – both during the trial and following its completion. This will help us to understand how policy, organisations, training and commissioning can ensure that the results of the research are used. We have brought together people with the right skills and experience, including people with dementia and their carers, to deliver the programme.
Patient, public and stakeholder involvement
We have built, and continue to expand, our Patient and Public Involvement (PPI) work across the South West and North West of England, involving people with dementia (including those with young-onset dementia), carers and former carers. The group aims are being expanded to ensure that we are seeking a diverse range of opinions especially from different community groups. We also meet regularly with an Expert Reference Group (ERG) that comprises local policy makers, managers, practitioners and representatives from the PPI groups. The ERG is chaired by Liz Hitchins (Chairman/trustee: Dementia Friendly Parishes around the Yealm). These groups work alongside the research team to ensure that we consider the needs of all stakeholders in the research process.
Examples of areas where we have benefited from their involvement are in developing our recruitment approach, developing the D-PACT intervention, ensuring our research materials are accessible and acceptable to people living with dementia and deciding which outcome measures to use.
Day-to-day I see people with dementia out with their families and they're having fun and living a good life. Perhaps people can't envisage that (at the point of diagnosis), and there might not be anyone supporting them to make that next step back out into the community. So it's about helping them adjust to the diagnosis and supporting them to get on with their lives again now that they've been reframed with a diagnosis of dementia."
– from an interview with an expert in the field of dementia
COVID-19: D-PACT's response
The D-PACT approach to recruitment and intervention is flexible and person-centred. Researchers and DSWs use a combination of face-to-face and remote (e.g., telephone calls and video-conferencing) interactions, depending on participant need or preference and the regulations or guidance in place at the time. This approach has proved highly adaptable during the COVID-19 pandemic. When the UK went into lockdown, feasibility study recruitment was paused temporarily. However, the research team has been able to rapidly adapt. The involvement of people who lack capacity (an under-represented population in research) was already a key focus for D-PACT. COVID-19 has intensified and broadened this remit to include the investigation of remote methods of recruitment and the implementation of virtual support interventions.
To find out more, share your experiences or ask questions, please contact us.
About this research
This research is a collaboration between the University of Plymouth Faculty of Health and the University of Manchester, with Devon Partnership NHS Trust, the University of Exeter, the London School of Economics, Newcastle University and City University of London. It is led by Professor Richard Byng and Dr Tomasina Oh at Plymouth and Dr Paul Clarkson at Manchester.
The study is supported by the Peninsula Clinical Trials Unit (PenCTU) and the National Institute for Health Research (NIHR) Applied Research Collaboration (ARC) South West Peninsula (PenARC).
PPI is led by Alex Gude and Lorna Manger and the involvement of our stakeholder groups is led by Dr Hannah Wheat and Dr Tomasina Oh. The Equality and Diversity inclusion work is overseen by Dr Cath Quinn alongside Dr Baber Malik and Dr Saqba Batool.
Please contact any of us if you are interested to learn more on how you can contribute to our patient, public and stakeholder work.
We would like to thank Dorothy Tudor and Dr Nick Cartmell for their early involvement.
Related publications

Paper
'Do I have the capacity to make capacity judgements?' Researcher reflections from a person-centred dementia support study
Download the Paper

Paper
Engaging Stakeholders in Realist Programme Theory Building: Insights from the Prospective Phase of a Primary Care Dementia Support Study
Download the Paper
Collaborators
Dr Paul Clarkson, Joint project lead, University of Manchester
Professor Siobhan Creanor, Dr Antonieta Medina-Lara, Dr James Fullam, Dr Sarah Morgan-Trimmer, University of Exeter
Dr Hannah Wheat, Miss Beccy Chapman, Mrs Zoe Doran, Dr Lauren Weston, Dr Cath Quinn, Miss Lorna Manger, Mrs Alex Gude, Mr Joe Coombes, University of Plymouth
Dr Saqba Batool, Dr Baber Malik, Miss Hannah Shafi, Miss Beth Warwick, University of Manchester
Professor Rose McCabe, City, University of London
Dr Mike Clark, London School of Economics
Dr Colm Owens, Dr Tobit Emmens, Devon Partnership NHS Trust
Professor Louise Robinson, Newcastle University